Axial Flow Check Valve
The Axial Flow Check Valve is a non-slam, spring-assisted check valve. They are designed to prevent problems like water hammer and reverse flow in your piping system.
Relia is an experienced Axial Flow Check Valve manufacturer in China. We manufacture soft-seat and metal-seat axial flow check valves. The axial flow check valves can be pushed open at low pressure.
Axial flow check valves are an important protection for pumps and compressors as they induce flow in one direction and prevent backward flow in the opposite direction. Backward flow can do a lot of damage to equipment, so you need axial flow check valves to protect your investment.
The Advantages of Axial Flow Check Valves
Axial flow check valves offer several advantages over other types of check valves, such as:
- Rapid closing action (prevents water hammering)
- The ability to be properly sized for each application
- Durability
- Increased valve longevity
- The ability to accommodate low-pressure drops and high flow
- Non-slamming opening and closing
- Tight shut-off leading to zero leakage
- Various end-to-end options
- The ability to be installed in both horizontal and vertical orientations
- Axial flow check valves offer many advantages over other types of check valves. Relia axial flow check valves can save time and money by preventing damage and increasing the lifetime of your pumps, valves, pipes, and other system parts.
Applications
Water Hammer
Water hammer is the phenomenon that occurs when a liquid comes to a sudden stop and generates shock waves inside the pipe. The resulting high pressure can cause significant damage to pipe lines, gaskets, gauges, pipe hangars, and other components. Relia axial flow check valves can reduce the effects of water hammer.
Pressure Pulsations
Pressure pulsations are caused by the intermittent reduction in pressure due to the reciprocating motion of a reciprocating compressor. The pressure fluctuation causes pulsating shock waves in the system, which increases wear on system components. However, axial check valves consist of no swinging parts and therefore reduce wear on system components, contributing to a longer lifetime in comparison to other valve types. The purpose of the Relia axial flow check valves is to let air and gas out of a reciprocating compressor.
Installation Options: Horizontal or Vertical
A common problem faced when using a pump is limited space for valves and pipes. Pumps are extremely loud when in operation. Therefore, they are usually put in special rooms. This leaves less room for valves and piping. Axial flow valves can handle turbulence better than conventional check valves. This makes them an excellent option when space is limited. Additionally, axial flow check valves can be installed on both vertical and horizontal pipes.
Axial Flow Check Valve Drawing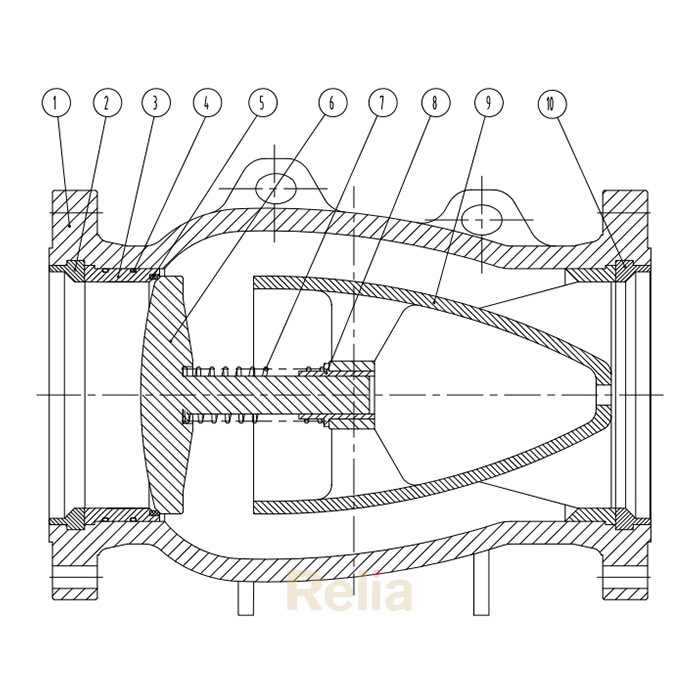 Part and Typical Material
| | | |
| --- | --- | --- |
| No. | Part Name | Typical Material |
| 1 | Body | ASTM A216 WCB |
| 2 | Lock Ring | ASTM A105+ENP |
| 3 | Seat | ASTM A105+ENP |
| 4 | O-Ring | Viton |
| 5 | Seat Insert | PEEK |
| 6 | Disc | ASTM A182 F316+STL .6 |
| 7 | Spring | Inconel X-750 |
| 8 | Bushing | Al-Bronze |
| 9 | Diffuser | ASTM A216 WCB |
| 10 | Lock Ring | ASTM A105+ENP |
Main Parts
Valve Body
The body is cast or forged in carbon or stainless steel and is also available in many other CRA. For severe services and large valve sizes, it can be internally lined or fully cladded instead of having solid CRA. The internal profile is designed in order to minimize pressure losses, and basic dimensions (face to face and wall thickness) comply with API 6D and ASME B16.34 standards. Body connections can be provided as per ASME B 16.5 RF or RTJ, as well as BW end or hub connections are available.
Valve Disc
The disc is the main part of the trim and allows fluid control. It comes in forged steel and in cast steel. Its shape is carefully designed in order to avoid turbulence and is assisted by a spring in its closed position.
Seat
The seat ring is part of the trim. It can be integrated with the body or renewable. A ground-lapped surface allows the tightness.
Spring
The valve will be closed quickly at fluid stop and reversal, giving its peculiar Non-Slam effect, avoiding any reverse acceleration of fluid and consequent water-hammer. Selection of spring characteristics can be made upon engineering evaluation of specific applications.
Diffuser
The diffuser supports the disc and spring assembly and lets the fluid exit from the valve with a minor impact on pressure drop.
Online Inquiry