Top Entry Ball Valve
Top entry ball valves with one-piece body design allow in-line maintenance. Get Best price from top entry trunnion mounted ball valve manufacturers in China.
In-line repair or replacement of valve internal components without dismantling it from the pipe line gives the convenience of in-line repair or replacement.
Quality top entry ball valves are trunnion mounted ball valves with bi-directional sealing with two independent floating seats. The top entry ball valve features a double block and bleed, fire-safe design, and anti blow-out stem.
Top entry ball valves are usually made from cast steel. Relia performs additional NDE tests on the valve body to ensure that there are no casting defects.
Size

2" - 48"

Pressure Rating

Class 150 - 2500

End Connections

Flanged, Welding Ends etc.
Relia top entry type ball valve in the pipeline is simple and rapid demolition, making maintenance convenient. When the top entry ball valve in the pipeline fails to repair, you do not have to remove the ball valve from the pipeline; just remove the flange bolts and nuts, the valve cover and stem assembly are removed from the valve body; and then remove the ball and valve seat assembly.
Top-entry ball valves are typically used in process systems where in-line maintenance is preferred over full valve removal. As such, it is common for top entry ball valves to be used in high-pressure applications that require infrequent maintenance, like high-integrity pressure protection system (HIPPS) valves.
Structure:
One Piece Body
Trunnion Mounted Ball Valve
Body Material:
Carbon Steel, Low Temperature Carbon Steel, Stainless Steel, Duplex Steel etc.
Seat Material:
Soft seat or metal seat
Bore Type:
Full bore or reduced bore
Top Entry Ball Valve Drawing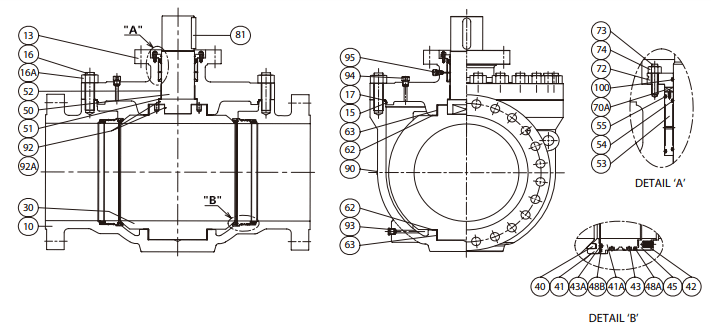 Materil Specifications
No.
PART NAME
Carbon Steel
Low Temp. CS
Stainless Steel
10
BODY
A216-WCB
A352 LCB
A351 CF8M
13
BONNET
A216-WCB
A352 LCB
A351 CF8M
15
BONNET O-RING
FKM
FKM-GLT
FKM
16
BONNET BOLT
A193 B7
A320 L7
A193 B8M
16A
BONNET NUT
A194 2H
A194 4
A194 8M
17
BONNET GASKET
INHIBITED FLEXIBLE GRAPHITE
30
BALL
A182 F316
40
SEAT
RTFE OR NYLON OR PEEK
41
SEAT HOLDER
316 STAINLESS STEEL
41A
SEAT BACK-UP RING
316 STAINLESS STEEL
42
SEAT SPRING
INCONEL X750
43
O-RING
FKM
FKM-GLT
FKM
43A
O-RING
FKM
FKM-GLT
FKM
45
SPRING HOLIDER
316 STAINLESS STEEL
48A
FIRE SAFE SEAL
INHIBITED FLEXIBLE GRAPHITE
48B
FIRE SAFE SEAL
INHIBITED FLEXIBLE GRAPHITE
50
STEM
316 STAINLESS STEEL
51
STEM THRUS BEARING
316 STAINLESS STEEL+PTFE
52
STEM BEARING
316 STAINLESS STEEL+PTFE
53
STEM BUSH
316 STAINLESS STEEL+ENP
54
BUSH INNER O-RING
FKM
FKM-GLT
FKM
55
BUSH INNER O-RING
FKM
FKM-GLT
FKM
62
THRUST BEARING
316 STAINLESS STEEL+PTFE
63
BEARING
316 STAINLESS STEEL+PTFE
70A
STEM FIRE SAFE SEAL
INHIBITED FLEXIBLE GRAPHITE
72
STEM COVER
A105N
A350 LF2
A182 F316
73
STEM COVER BOLT
A193 B7
A320 L7
A193 B8M
74
STEM COVER NUT
A194 2H
A194 4
A194 8M
80
T-BAR TUBE
A53 GALVANIZED
81
KEY
ANNSI 1025
82
STOP PLATE
316 STAINLESS STEEL
83
T-BAR SOCKET
A395+BLACK PAINT
84
T-BAR BOLT
A193 B8M
85
STOP BOLT
A193 B8M
87
WORM GEAR OPERATOR
COMMERCIAL
88
GEAR MOUNTING BOLT
A193 B7
A320 L7
A193 B8M
89
GEAR MOUNTING NUT
A194 2H
A194 4
A194 8M
90
NAME PLATE
316 STAINLESS STEEL
92
ANTI-STATIC DEVICE
316 STAINLESS STEEL
92A
ANTI-STATIC PLUNGER
316 STAINLESS STEEL
93
DRAIN PLUG
316 STAINLESS STEEL
94
VENT VALVE
316 STAINLESS STEEL
95
INJECTOR
316 STAINLESS STEEL
96
INJECTOR
316 STAINLESS STEEL
100
WIPER SEAL
NBR
Dimensions & Weight



Class 150-600 Top Entry Ball Valve Dimensions & Weight, API 6D
| | | | | | | |
| --- | --- | --- | --- | --- | --- | --- |
| Size | D | L | H1 | H2 | W | Weight |
| inch | mm | mm | mm | mm | mm | kg |
| 1-1/2" | 38 | 241 | 209 | 70 | 400 | 30 |
| 2" | 51 | 292 | 195 | 110 | 400 | 38 |
| 3" | 76 | 356 | 240 | 110 | 750 | 80 |
| 4" | 102 | 432 | 280 | 175 | 1000 | 150 |
| 6" | 152 | 559 | 305 | 195 | *300 | 296 |
| 8" | 203 | 660 | 400 | 280 | *300 | 438 |
| 10" | 254 | 787 | 435 | 285 | *500 | 601 |
| 12" | 305 | 838 | 440 | 320 | *600 | 625 |
| 14" | 337 | 889 | 505 | 340 | *600 | 1230 |
| 16" | 387 | 991 | 590 | 410 | *600 | 1535 |
| 18" | 438 | 1092 | 700 | 445 | *600 | 2135 |
| 20" | 489 | 1194 | 775 | 510 | *600 | 2640 |
| 24" | 591 | 1397 | 840 | 640 | *600 | 3960 |

Class 900 Top Entry Ball Valve Dimensions & Weight, API 6D
| | | | | | | |
| --- | --- | --- | --- | --- | --- | --- |
| Size | D | L | H1 | H2 | W | Weight |
| inch | mm | mm | mm | mm | mm | kg |
| 1-1/2" | 38 | 305 | 215 | 80 | 400 | 40 |
| 2" | 51 | 368 | 200 | 120 | 750 | 52 |
| 3" | 76 | 381 | 240 | 130 | 1000 | 87 |
| 4" | 102 | 457 | 280 | 175 | 1500 | 160 |
| 6" | 152 | 610 | 350 | 220 | *300 | 385 |
| 8" | 203 | 737 | 390 | 260 | *400 | 560 |
| 10" | 254 | 838 | 480 | 310 | *600 | 820 |
| 12" | 305 | 965 | 538 | 410 | *600 | 1125 |

Class 1500 Top Entry Ball Valve Dimensions & Weight, API 6D
| | | | | | | |
| --- | --- | --- | --- | --- | --- | --- |
| Size | D | L | H1 | H2 | W | Weight |
| inch | mm | mm | mm | mm | mm | kg |
| 1-1/2" | 38 | 305 | 220 | 90 | 400 | 40 |
| 2" | 51 | 368 | 205 | 120 | 750 | 60 |
| 3" | 76 | 470 | 210 | 125 | 1000 | 115 |
| 4" | 102 | 546 | 245 | 160 | *300 | 194 |
| 6" | 146 | 705 | 335 | 255 | *400 | 580 |
| 8" | 194 | 832 | 427 | 340 | *500 | 752 |
| 10" | 241 | 991 | 502 | 381 | *600 | 1195 |
| 12" | 289 | 1130 | 533 | 438 | *600 | 2170 |
Online Inquiry